Shared Autonomous Vehicle – Solution to Congestion-Free Mobility?

Driverless autonomous vehicles will reduce traffic congestion and improve mobility… or will they? There's much research by various academia and associations to support the two opposing statements. According to a University of Cambridge study, driverless cars could improve overall traffic flow by 35%. In contrast, another study from the University of Adelaide suggests that the advent of autonomous vehicles may add to congestion. Could shared autonomous vehicles (SAVs) be the key to improving mobility?
Shared autonomous vehicles are precisely that, self-driving vehicles that are shared between multiple users. A recent research paper submitted to the Transportation Research Record: Journal of the Transportation Research Board presents detailed findings on the use of a hypothetical public SAV system to improve mobility and increased use of public transportation. The scientists researched the role SAV could play in urban planning. The conclusion? SAV systems are feasible and could benefit communities by reducing the number of traffic crashes and strengthening the existing transit system by providing cost-effective service on low-ridership routes. SAVs are used to augment public transportation in several ways worldwide.
Some of the critical applications include:
First/last-mile connections
Paratransit services
Shuttle services
Park-and-ride services
Dynamic routing
Researchers noted that SAVs could complement existing public transit fleets by optimizing the rider-vehicle capacity ratio and removing large low-ridership buses from such routes, resulting in reduced costs. Moreover, this freeing of large buses and capacity could be deployed to service busier routes that can benefit from more frequent service, attracting more people to use public transport. The co-principal investigator of this study, Yingling Fan, concluded that: "Well-designed communities employing pools of SAVs of varying sizes with efficient connections to high-quality public transit could bring about far-reaching societal change, providing inexpensive mobility services to all people, building stronger family and community ties, and boosting economic productivity and equity by removing mobility as a constraint."
The road to a transit system incorporating shared autonomous vehicles is in its early stages of development and will need to overcome many hurdles to become more widely implemented. One such hurdle is consumer attitude towards SAVs. Research exploring people's attitudes and perceptions of shared autonomous vehicles found that SAV service users rated seating comfort and boarding high but rated pick-up and drop-off locations low. In addition, the research found that service availability, geographic accessibility and higher cost were the three major concerns of the focus group participants, with lack of accessibility and lack of awareness being the two primary reasons survey respondents gave for not utilizing the services.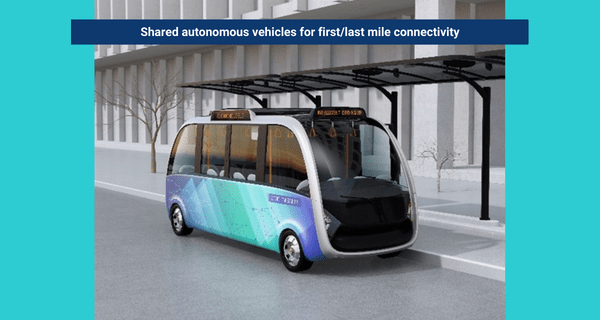 Researchers out of the Faculty of Engineering at Monash University studied the implementation of shared autonomous vehicles for first- and last-mile services and their integration with public transport. They found that the introduction of SAVs coupled with public transport usage led to an increase in public transport ridership by 3% and reduced personal vehicle kilometers traveled by 6%, which contributed to the reduction of congestion. Through simulations, the researchers observed that when SAVs' waiting time decreases, the passenger trips for SAVs increase, and so do the number of public transport trips. However, when the SAV passenger waiting time was reduced by 20%, a substantial increase in SAV passenger trips and a reduction in public transport trips were observed, potentially contributing to congestion. This experiment highlighted the need for significant planning before SAVs can be integrated with public transport.
In the United States, pilot programs have been launched in cities such as San Francisco, Phoenix and Las Vegas, while in Europe trials have taken place in cities like Paris and Amsterdam. Singapore has been a leader in implementing shared autonomous vehicle systems in Asia, and other countries such as Japan and China have also launched pilot programs. These programs have been launched by companies such as Cruise, Waymo and Uber, who are working to develop and commercialize SAVs for use in cities around the world.
An example of using SAV for first/last mile connections is the partnership between the Las Vegas Monorail and Navya, a manufacturer of autonomous shuttles. The partnership allows passengers to take the monorail from the Las Vegas Convention Center to a station near the city's famous Strip, and then transfer to a Navya shuttle for the final leg of their journey to their hotel or other destination. The shuttle operates on a fixed route and makes multiple stops along the way, thus eliminating the need to walk long distances or wait for a taxi. Another example of using SAVs for first/last mile connections is in Lyon, France. Keolis, a transportation company, uses SAVs to connect passengers to the city's metro stations.
Whatever the future holds for autonomous vehicles, widescale or restricted deployment, what is certain is that autonomous vehicles will significantly impact commuters, government bodies and mobility. Moreover, considerable work still needs to be done to enable the 24×7 operation of SAVs under all weather conditions, and the performance enhancement that the adoption of LeddarTech's low-level sensor fusion and perception can provide by accurately detecting, classifying and tracking objects will accelerate this roadmap. LeddarTech's LeddarVision™ software and products enable ADAS and AD by delivering high-performance, scalable and cost-effective sensor fusion and perception technology.