Camera Focus Technology Reinvented with Flash LiDAR
Blog post, May 17, 2017 – Recent innovations in digital imagery have profoundly transformed the process of creating cinematic productions. The race towards high-definition productions and exacting image precision is pushing technical boundaries, and in turn creating several challenges for filmmakers.
In this context, Preston Cinema Systems—a company that manufactures the world's most widely used professional focus and lens control systems for the motion picture industry—recently approached LeddarTech to resolve one of its long-standing challenges: developing a multi-segment focus-assist device for use on movie sets that would be capable of providing precise focus control of the camera lens in the context of increased image sensitivity and other constraints related to high-resolution cameras.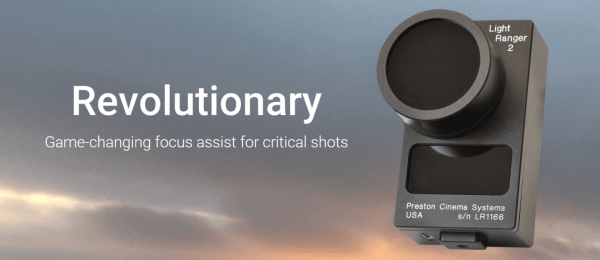 Indeed, the company had been searching for an enabling technology for multi-segment focus assistance for quite some time, but had settled on using a collimated IR laser measuring distance at a single point. However, this device required a highly skilled technician for setup and operation, which limited its use to rare and special cases.
After considering—and ruling out—several other distance measurement methods, including ultrasonic detectors, stereo cameras and mechanical scanning LiDAR, the company turned to LeddarTech in order to acquire the right set of capabilities needed to develop its revolutionary Light Ranger 2 focus-assist solution.
For more information about the Preston Cinema Systems solution and how it leverages 16-segment sensor modules for depth-of-field automation, read the full application note.