Read the CEO Views article HERE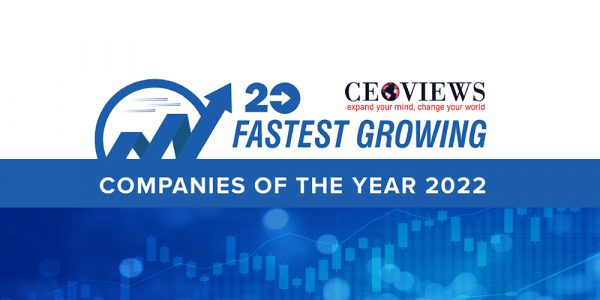 LeddarTech: A Leader In Automotive Software That Enables ADAS and AD
In The News: Technologies like advanced driver assistance systems (ADAS) provide a better driving experience and ensure safety. The prompt acceptance of progressive technologies in software algorithms, cameras, sensors, processors, and mapping has upgraded the application process of ADAS in automobiles. Companies like LeddarTech have been bringing innovations in these technologies and developing markets.
We had Charles Boulanger, CEO of LeddarTech, with us to share insights on how they are shaping the future of the automobile industry.
Inception and challenges
For over a decade, companies have been developing technology that improves people's quality of life, increases public safety, and encourages greater global environmental sustainability. However, people at LeddarTech recognize that the timeline for adopting advanced driving solutions and fully autonomous vehicles is a moving target. Recognizing this we never stop innovating.
LeddarTech has been a pioneer in this industry, enabling them to assess and foresee potential shifts in the market. They recognized that LeddarVision™, their sensor fusion, and perception solution, is uniquely positioned as a superior offering to on-road and off-road Tier 1-2s and OEMs because of its flexibility and scalability features.
Thanks to their incredible work on ADAS and AD solutions, LeddarTech is recognized as one of the "Fastest Growing Companies of the Year 2022" by the CEOViews committee. Charles expressed their gratitude and said, "The journey is not without challenges due to elements beyond our control, be that of the economy, geopolitical influences, or a global health crisis such as COVID-19. The key is not to lose the drive and passion for attaining the goals we set for ourselves. We are excited about the present and future; innovations that increase automotive safety are becoming increasingly sophisticated. At LeddarTech, we are excited to be part of this momentum. Our solutions enable customers to develop applications that perform better, become available faster, and are designed to evolve in tune with their requirements".
LedderTech was also recently named one of Canada's Top Growing Companies by the Globe and Mail's Report on Business.
Differentiating factor
The sensor processing industry is crowded, and without an apparent differentiating factor, it is challenging to compete with other players. LeddarTech stands out from its competitors in many ways. Their longevity in the industry is undoubtedly a differentiator, but, more importantly, they develop and design software solutions that enable customers to be successful. Their solutions enable customers to solve critical fusion and perception challenges across the entire value chain. The company provides cost-effective perception solutions scalable from Level 2 ADAS to Level 5 full autonomy with LeddarVision, a raw data sensor fusion and perception platform that generates a comprehensive 3D environmental model from various sensor types (camera, radar, and LiDAR) and configurations. This solution enables OEMs to build their IP stack from a second source and determine the sensors they wish to employ because LeddarVision is sensor-agnostic.
People at LeddarTech recognize that the timeline for adopting advanced driving solutions and fully autonomous vehicles is a moving target. Recognizing this we never stop innovating.
Approaches towards marketing
Marketing is an essential aspect of the success of any organization, and Charles takes this matter very seriously. It has been critical for the positioning of the brand and the values of LeddarTech, which is, first and foremost, why customers initially consider them. The technology surrounding ADAS and AD development and implementation is complicated and often difficult for customers to navigate. Therefore, they have always taken a different approach in their marketing efforts; they communicate with the market not by advertising the solutions but by sharing their knowledge and expertise. They employ some of the greatest minds in the field and promote that knowledge through thought-leadership campaigns.
LeddarTech's vision
When asked about the vision that LeddarTech shares, Charles said, "We have all faced challenges personally and in business because of the pandemic. I remain optimistic because those of us in the technology industry, particularly automotive technology, have always been resilient, driven by passion, innovation, and a desire to improve people's lives. The vision and practices of LeddarTech are to develop solutions that make transportation safer by significantly reducing road accidents and deploying this technology in the off-road and industrial sectors to improve safety and quality of life. As a result, our solutions enable greater safety on work sites and enhance efficiency.
The goals at LeddarTech are tied to their mission statement; "To improve the safety and quality of life for travelers, commuters, workers, and mobility industry professionals by enabling applications that reduce traffic congestion, minimize the risk of road accidents, and improve the overall efficiency of road transport." These values set the roadmap for what they stand for and are at the core of everything they do at LeddarTech.
The improvements to society as a whole that this technology provides are vast. Various forms of automation will provide a better quality of life, free people from various mundane jobs, and enable greater personal fulfillment. For example, a customer implemented LeddarTech's technology on a rail yard by automating delivery vehicles. In the past, a worker would repeatedly deliver materials within a specific area throughout the day. In an industrial setting, these autonomous vehicles did not displace employees. Instead, they freed those workers to learn new jobs in the same company, further enhancing the organization and quality of work-life for those individuals.
Our climate has been changing for some time; these changes affect food production as crop cycles are shorter, resulting in a tighter window for farmers to extract their crops. Implementing technology for assisted driving and autonomous vehicles into the agriculture business enables equipment to operate 24/7. This technology enables more crops to be harvested, meaning more food is available in a world where more than two billion people today do not have adequate food.
What's ahead in the future for the industry?
Various predictive influences affect the adoption roadmap of autonomous vehicles. Charles added more about the industry's future: "This industry will continue to evolve, especially in the ADAS market. These ADAS and AD innovations that support the automotive and industrial markets, such as mining, construction, and agriculture, will continue to find value and concrete benefits".
The tipping point of greater vehicle autonomous feature adoption occurs each time society is exposed to the technology and recognizes the benefits of automotive features that improve their driving experience. The greater societal acceptance of advanced driving features will accelerate Level 4 to 5 autonomy, thus making it more affordable for the mass market. The timeline for fully autonomous vehicles is difficult to ascertain, as is all new technology. Still, it is one that we have faith in, hence the reason we focus our efforts on this goal.
As new players enter the market what advice would you give? Charles said, "ADAS and AD technology is complicated, labor-intensive, and costly to invest in from an R&D perspective. It is not an industry for those seeking quick wins; therefore, goals must be realistic and ever-evolving as the industry itself evolves".