LeddarTech: Thriving Through Diversity
Frantz Saintellemy, President and COO of LeddarTech, Recognized as a "Champion of Diversity" by Automotive News Canada and Accelerate Auto
Diversity is not just an empty word at LeddarTech, a global software company founded in Quebec City in 2007 that develops and provides perception solutions enabling the deployment of ADAS and autonomous driving applications. Its President and Chief Operating Officer, Frantz Saintellemy, is a living example of the successful integration and outstanding personal and professional contribution of a person from a community that reflects the multicultural diversity of Canada in 2023. Today, the life trajectory of this dedicated entrepreneur and philanthropist, who personifies the inclusion and equity values promoted by LeddarTech, is highlighted by the title "Champion of Diversity" that was granted to him by the Automotive News Canada magazine and the non-profit organization Accelerate Auto.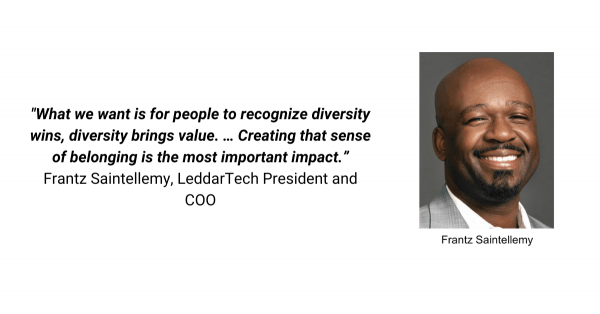 BLOG POST – When Frantz Saintellemy joined LeddarTech, the Quebec City-based autonomous vehicle technology company had 30 employees. Five years later, LeddarTech has expanded to include offices in North America, Europe, Asia and the Middle East and a diverse workforce of more than 200 employees. "Diversity in all its forms has been a non-negotiable part of LeddarTech's growth as well as one of its key drivers, and we try in everything we do to bring diversity into the discussion. Diversity in thinking, diversity in the perception … to create an environment where the best ideas are more relevant."
While the company does not set firm hiring targets for traditionally under-represented groups, it caters its recruitment policy to pull in prospective employees who are not just diverse but comfortable working in an inclusive environment. Frantz states: "What we want is even if we have one person of color, that person belongs, period." He adds setting quotas for diversity can have unintended consequences, such as diverse employees who "deserve to be there" –an experience he relates as having gone through firsthand.
"What we want is for people to recognize that diversity wins. Diversity brings value." He continues: "Having LeddarTech offices in regions as culturally disparate as Quebec City, Israel and Germany, building inclusiveness into the company's DNA has been necessary as opposed to optional, but it has also helped the company see the world differently."
LeddarTech recently formally placed diversity among its fundamental values while building a "diversity and equity mission" into its strategic plan, Frantz says. "From the board of directors to investors, all the way down to the employee base, everyone's aligned on the same strategy of how diversity and equity creates value for all, and the reward of creating an inclusive environment across the automotive tech company is essential." He concludes: "Of all the things we have done at LeddarTech, creating that sense of belonging is the most important impact."
Automotive News Canada's Diversity Champions program celebrates leaders within the Canadian automotive industry who are committed to improving diversity, equity and inclusion in their own organizations or throughout the wider sector. The inaugural eight Diversity Champions from the automaker, dealer and automotive finance and service communities were selected by a panel comprised of leaders at Automotive News Canada and Accelerate Auto. In subsequent years, the selection process will follow a public call for nominations from the industry.
About Accelerate Auto: Accelerate Auto is a not-for-profit organization dedicated to increasing Black representation in the Canadian automotive industry. It provides Black talent and youth with access to mentorship for skills building and peer networking to support professional growth and career development. Accelerate Auto facilitates career pathing through the form of internships to attract more Black talent to automotive and build awareness of opportunities within the industry. Accelerate Auto is dedicated to creating a stronger and more diverse automotive workforce.