A blog post by
Heinz Oyrer, Director of Strategic Partnership, LeddarTech
PART 2 – In the second installment of this two-part series, we asked Heinz Oyrer about the effectiveness of working within a synergistic Ecosystem in the development of new automotive technologies.
---
The following Q&A with LeddarTech's Director of Strategic Partnerships refers to a dedicated area within the autonomous vehicles space: LiDAR (Light detection and ranging), which represents a critical enabling sensing technology. LIDAR is a sensing method that detects objects and maps their distance. The technology works by illuminating a target with an optical pulse and measuring the characteristics of the reflected return signal. The length of the optical pulse can range from a few nanoseconds to several microseconds. Autonomous vehicles and ADAS are poised to become standard on our roads in the next few years, thus increasing the need for improved sensing technologies. Lidar is becoming increasingly sophisticated and will be a major enabler in automotive sensing along with cameras and radars.
Q: What is an ecosystem and why is the concept important?
A: Ecosystems typically bring together multiple players of different types and sizes in order to create, scale, and service markets in ways that are beyond the capacity of any single organization. Being part of an ecosystem encourages both innovation and growth. It helps create new value propositions through both collaboration and competition. It's also a springboard for reaching more customers, therefore more sales and better ROI, as each party has the potential of generating more sales than going at it alone.
Q: Why is an ecosystem mentality important in the tech industry as a whole?
A: A business ecosystem is an important concept in strategy in the tech industry. Today's markets are a complex web of technologies and intelligence. I see a strong future in ecosystems to create new competitive advantages, to better serve customers and to create new customer experiences that drive innovation and disruption. The tech industry needs to collaborate towards a common goal instead of going it alone.
Q: How does the ecosystem approach contribute to the business model of LeddarTech?
A: The ecosystem is an essential part of our business model. We believe that an ecosystem collaboration of leading top-tier automotive suppliers is instrumental in the success of emerging LiDAR solutions in the future mobility industry.
Within the ecosystem, we are capable of developing standards and more interoperable technologies as well as harmonizing specifications. The performance levels needed to address real use case requirements can be defined, instead of over-emphasizing specs. As well, IP & expertise from different technology & industrial leaders can be leveraged, and more importantly, it is possible to share costs & risks in developing the necessary key components and IP blocks.
LeddarTech has taken a platform approach to LiDAR development, providing a lidar core called LeddarEngine, and collaborates with various technology leaders.
In the end, LeddarTech's ecosystem and platform approach enables OEMs to make platform decisions instead of piece-by-piece product selections.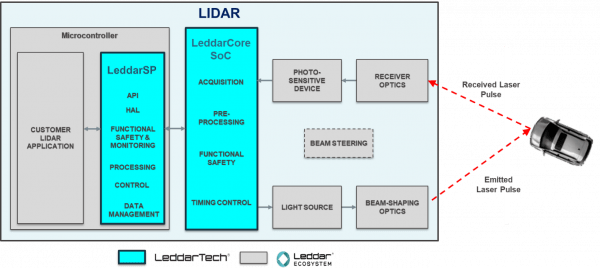 Figure 1: LeddarTech's ecosystem members collaborate to deliver the different building blocks for automotive-grade LiDAR sensors, designing individual components around a common LiDAR development platform built around LeddarTech's proprietary LeddarEngine (which comprises LeddarCore SoC and LeddarSP software)
Q: How does the ecosystem partner benefit from such a partnership?
A: We are talking about components and technology partners that are each committed to being players in this market, and about organizations that share a common goal: to support OEM deployment of the technology. They all own separate pieces of the whole solution and therefore they need each other.
For each player, this will result in increased sales and better ROI through cost-sharing, accelerated time to market, roadmap alignment and joint development, better market/customer access, commercial/technology de-risking, and coop marketing. Hence, it's a winning proposition for everyone.
Q: While an ecosystem benefits its members, how does this translate into benefits for the customer? 
A: Organizations collaborate to produce something of greater value benefiting each organization, from the ecosystem members to the customer. In LeddarTech's case, customers using our LiDAR development platform called LeddarEngine are enabled to develop their own LiDAR solutions leveraging LeddarTech's core technology and the support of engaged ecosystem partners.
Also, developing a shared roadmap for innovation will enable the partners to keep on making investments that strengthen the ecosystem, for the benefit of the end-customer, and ultimately the end-user.